After going back to bare floorboards, I remembered the serious-looking rug shop on Harris Street that had been there for decades. The large Esari rug we bought that day continues to deliver up surprises and we still contend we've not seen a better example anywhere. Since then we've acquired so many beautiful things from Ross and Irene – as well as a wealth of knowledge and a solid friendship.
In 2008 I discovered Nomadic Rug Traders, a treasure trove of wonderful, authentic central asian rugs. The proprietors, Irene and Ross Langlands are warm, friendly, welcoming people and full of fascinating stories about the rugs they offer and the travels they have done in obtaining them. I have bought rugs from them which date from the 1880s to the early 20th century; I live with these rugs and delight in them daily. Ross and Irene are truly ethical people and do not hesitate to point out where time has left its mark.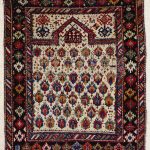 After over 40 years of friendship, your new Website does not disappoint me, indeed I don't know how you can still maintain such excellence in your NRT Collection. But I do know of your knowledge and passion for the material culture of our region especially textiles. Congratulations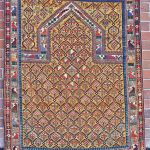 I bought two of your rugs for our bedroom as a 25th wedding anniversary present to myself a couple of years ago. I love them. Looking at them, walking on them, living with them. They've made my bedroom warmer and more interesting and they cheer me every day.
We've been buying Oriental rugs from Irene and Ross for more than 25 years. Their undisputed expertise ensures we feel confident of the provenance of each rug we've purchased, and their infectious enthusiasm for their beautiful pieces adds a special dimension to the experience.
We have watched your actual website with particular interest and must say we are really pleased: easy to navigate, good and concise content, clear photographs. Congratulations! Your hospitality as well your professionality and profound knowledge about textiles and tribal art are just amazing.
I highly recommend Nomadic Rug Traders who present the very best in antique rugs and textiles. Their stock is sourced globally and is of the highest standard of authenticity, originality and quality. Along with their outstanding quality stock, both Ross and Irene Langlands understand customer service and possess extensive information on the history of the rugs and textiles. Nothing is too much trouble. They are very professional, really nice people who ensure your inquiry and purchase is a pleasure.